Professional Riverside Carpet Cleaning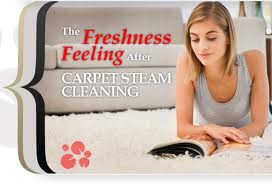 When it's time to have your carpets professionally cleaned, call Dave The Carpet Cleaner. I use low moisture hot water extraction for lifting dirt and stains. Low moisture hot water extraction offers all the benefits of hot water extraction but uses a lot less water. Carpet manufacturers and carpet fiber producers recommend hot water extraction because it's the only method that deep cleans the carpets, leaving them fresh and contaminant free.
Among the manufacturers that recommend hot water extraction are Shaw Carpet Industries, the largest carpet manufacturer in the world. DuPont and many other manufacturers actually require the hot water extraction method for carpet cleaning to honor their warranties.
Many carpeting trade unions also recommend hot water extraction, including the Institute for Inspection, Cleaning and Restoration Certification (IICRC), California Fabric Institute (CFI) and the World Floor Covering Association (WFCA).
Dave The Carpet Cleaner uses a truck-mounted system that heats the water up to 240 degrees whenever possible to kill dust mites, remove allergens, lift dirt and stains and neutralize odors, including pet odors.
Dave The Carpet Cleaner is certified by the Institute of Inspection, Cleaning and Restoration Certification (IICRC) and are specially trained to break down and remove tough stains such as coffee, paint, oil and grease, ink and pet stains. Please specify your special stain needs, so that I will be prepared with the best cleaning agents to accommodate your needs. The cleaning agents I use are biodegradable and non-toxic. They are safe around kids, elderly people, asthma and allergy sufferers, pets and house plants.
Deodorizer
Have pets and embarrassing room odors? Anyone can mask obnoxious odors with heavy fragrance. But professionals know that to really get rid of an offensive odor, you have to remove the source. You also have to know how to find the source and what method to use to remove it. Pet odors are not the same as cooking odors, or cigarette odors.
Ask about my odor control service.
Many carpet manufacturers and the IICRC recommend that carpets are professionally cleaned at least twice per year, depending on how much wear and tear your carpet receives from foot traffic, children, pets, smokers and other contributors to dirt, stains and carpet wear. The following chart, provided by the Institute of Inspection, Cleaning and Restoration (IIRC), will help you determine how often you'll need to have your carpets cleaned:
It's all about trust! Dave The Carpet Cleaner offers a full range of cleaning services for all the carpet in your home or business. From tough industrial strength cleaning of carpets with my truck-mounted systems to delicate residential carpets.  I specialize in green cleaning to keep your environment healthy!
I also offer a 100% Guarantee on all work completed. I invite you to experience the difference and become a Dave The Carpet Cleaner customer TODAY!
Common Misconceptions About Carpet Cleaning
I have discovered that carpet cleaning is a topic of much confusion.  In fact, there are so many misconceptions about carpet cleaning, that I decided to create a consumer awareness message that can help you make an educated and informed decision, when choosing a professional carpet cleaning company.
In the following information, I will discus 6 costly misconceptions about carpet cleaning.  In addition I will also make 4 recommendations, and list 7 questions you should ask a carpet cleaning company before you invite them into your home.
Misconception #1: You Should Wait As Long As Possible Before Having Your Carpets Professionally Cleaned.
No.  Dirt is abrasive to your carpet fibers.  Dirt acts like sand paper and causes damage to the carpet fibers every time you step on the carpet.  High traffic areas will Ware out quicker and look worn.  In fact, the life span of a dirty carpet is much shorter than the lifespan of a clean carpet.  Routine vacuuming will help, but is not enough to remove the dirt and other contaminants at the base of the carpet.
Misconception #2: The Only Reason To Clean Your Carpet Is To Remove The Dirt.
No.  As you know, my outdoor environment contains many surface and airborne contaminates such as, air pollution, pollen, bacteria, fungus, cigarette smoke, car exhaust, and much more.  These contaminates are picked up and carried home on my shoes, clothes, and hair.  It's no surprise that they are found in my carpet and furniture too!
For example: Cigarette smoke contains over 4,000 different chemical compounds, and 43 of them are known to cause cancer. Even if you don't smoke, these chemicals still get tracked into my homes. If you suffer from Allergies, Asthma or breathing problems you may experience some relief after having your carpet and upholstery professionally cleaned being truck mounted steam cleaning extraction.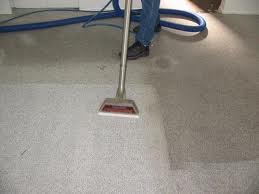 Misconception #3: One Method Of Carpet Cleaning Is As Good As Another.
No. There are 2 primary methods made in the industry. These methods are called Dry Cleaning or Steam Cleaning Extraction.
Many people believe that Dry Cleaning your carpet is like dry cleaning your clothes. This is not true. All carpet cleaning methods use water.
There are 3 types of dry cleaning available. The first method is dry foam cleaning. This method starts by applying shampoo to the carpet and allowing it dry. It is then followed by vacuuming the dried shampoo. Can you image applying shampoo to your hair, allowing it to dry, and then removing the dried shampoo from your hair with a vacuum? This method can leave a residue in your carpet and is one reason why it is not very effective at cleaning.
The next method is the dry-chem. method that is similar to the dry foam method. The major difference is when dry chemical is made they operate a floor machine with a cotton bonnet that absorbs the dirt. Bonnet cleaning is like trying to use a towel to rub the dirt out of your carpet. It is not effective in extracting contaminates out of your carpet.
The last type of dry cleaning is called the dry compound method. This method involves spreading an absorbent mixture that looks like It sawdust all over your carpeting. Then a machine brushes the mixture into the carpet, which in theory causes the dirt to absorb into the mixture. When the mixture has dried, a vacuum is made to remove the material. Since the material is not rinsed in anyway, it is not very effective at cleaning and removing contaminates.
The primary cleaning method recommend by Shaw Industries, the worlds largest carpet manufacture is "Steam Cleaning Extraction" also known as "Hot Water Extraction". Steam Cleaning uses 230 degree heated water at high pressure to thoroughly rinse the carpet fibers. This process is completed by extracting dirt, bacteria, dust mites and other contaminates out of the carpeting leaving the carpet only damp to the touch.
This process is best completed by a powerful truck mounted unit. Smaller more portable units are also made in areas that are more difficult to obtain direct van access.
I use the only the Most Powerful Truck Mounted Units on the market.
Misconception #4: Having The Right Equipment Is All A Company Needs To Clean Your Carpets Properly.
This statement is False. Although many companies operate truck mounted equipment, many of their employees are not trained properly on how to use them. This is one of the reasons why it is important to choose a carpet cleaning carefully.
The best carpet cleaning companies are those that have been certified by the Institute of Inspection, Cleaning, and Restoration Certification. A company cannot buy this certification; they must earn it through education, experience, and a successful completion of formal, written exams. I am a certified and trained by the IICRC and follow its industry standards and guidelines.
Misconception #5: The Company That Offers The Cheapest Price Is The One You Should Choose.
Maybe… but maybe not. Here are 2 important factors to consider.
1st: The price you see advertised may not be the price you pay. Many homeowners have found out the hard way that the price they saw advertised was not what they were charged. Many people have become victim to false and misleading advertising. These "Bait & Switch" advertising practices are everywhere. Companies advertising professional carpet cleaning for $5.99 a room set the "bait" and then once inside your home they make the "switch".
This practice is illegal and fraudulent. As in all business and professions, the carpet cleaning industry has many unethical and dishonest companies and individuals. These people cast a dark shadow on my entire industry.
Then you will find professionals like me, who work hard to earn your trust and respect. As a way of improving my professionalism, I have made it my personal commitment to educate the public on how to avoid becoming a victim of these scams.
This is why I have created this message to allow you, to make intelligent and informed decisions when choosing a carpet cleaning company.
Misconception #6: Any Honest Carpet Cleaning Company Should Be Able To Give You An Exact Price Quote Over The Telephone.
Although it can be possible to give a price quote over the phone, there is no way to give an exact quote without seeing the job first. Typically an estimated price range can be given to create a general idea of the projected cost.
Another factor to consider when requesting a price quote is the amount of furniture that has to be moved. If I have to move your furniture then the bid will include that labor.
Dave The Carpet Cleaner won't nickel and dime you. Typically my charges are based on basic room/ area charges. Included in these charges is my signature 6 step cleaning process. I offer no hidden charges and don't charge extra for cleaning solutions needed to clean your carpets (like the bait & switch companies do).
4 Recommendations to consider about Carpet Cleaning:
#1: Make a commitment to yourself to have your carpets professionally cleaned. The longer they remain dirty the sooner they will wear out. Also improve your indoor air quality by removing the settled contaminates in your carpet fibers.
#2: Identify your objectives. Do you want to work with an honest, reputable company that you can trust? One who has the tools and equipment to get the job done right – the first time? Do you want an advanced cleaning process that leaves no sticky residues in your carpet? Do you want educated, certified, and trained professionals in your home performing the work? Do you want "Green" environmentally friendly, non-toxic, pet safe cleaning products made in your home?
Or do you want to risk working with a bait and switch coupon company that claims they will clean your entire house for $39.99?
#3: Ask Questions. This is how you find out more information about a company.
Here are 7 questions I suggest you ask:
What method of carpet cleaning do you recommend?
What type of equipment do you have?
How often should I have my carpets cleaned?
Are you a member of any professional trade associations?
Are your technicians educated, trained, and certified?
Do you have a business license?
Do you have Insurance?

#4: Once you are confident that you are working with an honest, professional company invite them into your home for an exact quote.
I will be happy to assist you with any other questions or concerns you may have. Please call my office at: (951) 907-9911
Here's one last point: I know many people are skeptical of carpet cleaning companies and inviting somebody new into their home for the first time. In addition to my commitment to consumer education I also guarantee my work. I offer my 100% Risk Free Guarantee! This means I stand behind my work and if there is something that you are not happy with, I will come back and re-clean the area for free. If you are still not pleased with my work, I will refund your money for that area! What could be fairer?
How about adding this question to the list:
Do you guarantee your work? – Not all companies do. It is important to know before you hire a carpet cleaning company. Thank you for reading and I hope that this information was useful, and will prove to be helpful in assisting you with making an informed and intelligent decision.
On behalf of Dave the Carpet Cleaner, I thank you for your attention.
Call Dave Today 951-907-9911